In a recent blog post, I announced a new project from Partners in Health Canada Spark to create a space for readers interested in finding books that address the most pressing global health issues. The Global Health Bookstagram launched in June with Leah Rosenkrantz and Lauren Desouza, from the Spark Education Working Group introducing Mountains Beyond Mountains: The Quest of Dr. Paul Farmer, a Man Who Would Cure the World.
Each time a book is introduced, we have conversations over on our Instagram page during the duration of that month. These blog posts on PH SPOT summarize some of these interactions so that we can include more public health professionals in the conversation. We hope you enjoy reading these compilations!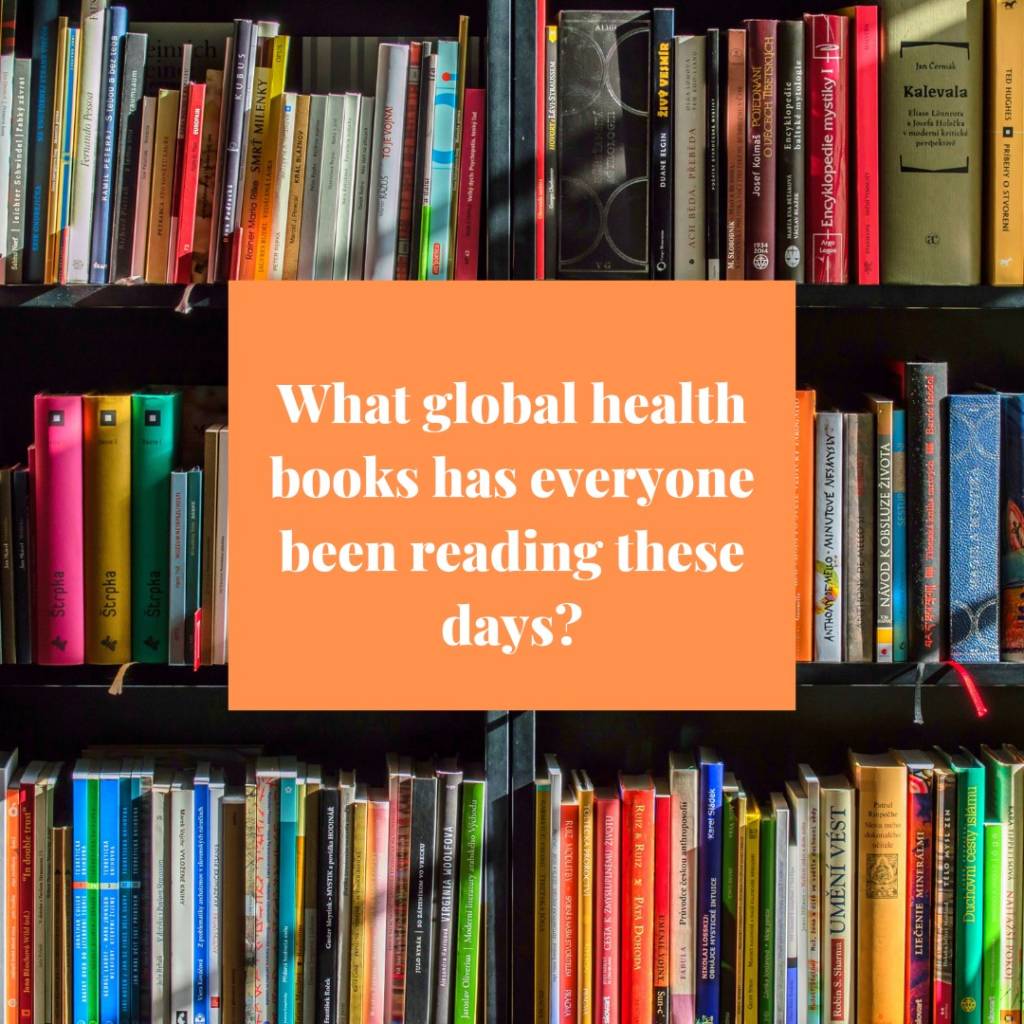 About the author of the June book
Our first monthly pick, Mountains Beyond Mountains, was written by Tracy Kidder, the Pulitzer-Prize winning author of non-fiction books like "The Soul of A New Machine" and "Strength in What Remains". He researched Dr. Paul Farmer for three years to write Mountains Beyond Mountains, chronicling Partners in Health's global health work.  In a 2008 interview with Mark Klempner, Kidder expressed that "[He thinks] we're living in the most meretricious age ever…And Mountains Beyond Mountains is about a man whose values differ radically from those that currently prevail."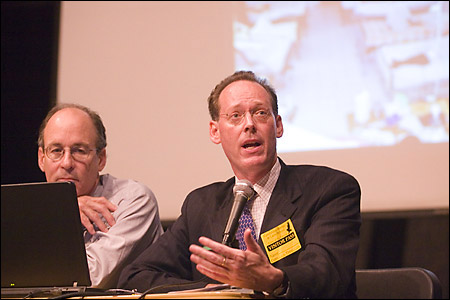 Pictured: Tracy Kidder (left) and Paul Farmer (right) – picture by, Kris Snibbe/Harvard News Office
Synopsis of Mountains Beyond Mountains 
Mountains Beyond Mountains is the story of how three young people revolutionized health care, driven by a belief that wealth should not determine one's access to equitable care.
Kidder recounts both the challenges and successes Dr. Paul Farmer, Dr. Jim Yong Kim, and Ophelia Dahl faced working in both Haiti and beyond, as they treated diseases that many others deemed too difficult or too expensive to treat in such poor or remote areas.
"Mountains Beyond Mountains is about a man whose values differ radically from those that currently prevail." – Tracy Kidder
Thoughts from the Partners in Health Canada Team
During the Bookstagram, we wanted to share some thoughts on Mountains Beyond Mountains from the Partners in Health Canada team. Here they are summarized below:
"At the end of chapter 9, PIH benefactor Tom White contemplates quitting his business and moving to Haiti to join Paul Farmer in serving Haitians directly. "In your particular case," Paul reflects, "that would be a sin." We all have a role to play in social justice work. Tom White's was providing the financial resources that made the work possible." – Mark Brender, National Director of Partners in Health Canada.
"A part that stood out for me in Mountains Beyond Mountains were the conversations between the author, Paul Farmer and Jim Kim on how changing the realities of global health require each of us to find out how best we can contribute. Despite the book's focus on the work of Dr. Farmer, they clearly state that we can't all do what Paul does, but we can each find our own ways to support the movement for the right to health for all." – Ian Pinnell, Development Coordinator PIH Canada
If you're already familiar with Mountains Beyond Mountains, I'm sure you have a few quotes that stuck with you. Here are a couple of quotes picked out by the Partners in Health Canada Spark members:
"The idea that some lives matter less is the root of all that is wrong with the world." – Tracy Kidder

"I feel ambivalent about selling my services in a world where some can't buy them." – Dr. Paul Farmer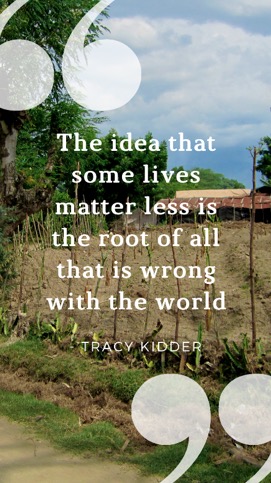 A bit of trivia for you
We brought a round of trivia to the June Bookstagram and loved reading viewers' submissions.
Q1: What WHO-approved TB treatment strategy was being used in Peru even when some patients had multidrug-resistant tuberculosis?
Q2: At the Hopital St. Croix, we are introduced to the phrase "tout moun se moun". What do these words mean?
What are your best guesses? Are you familiar with "tout moun se moun" from chapter eight? Continue to the end of this post for the answers to these trivia questions!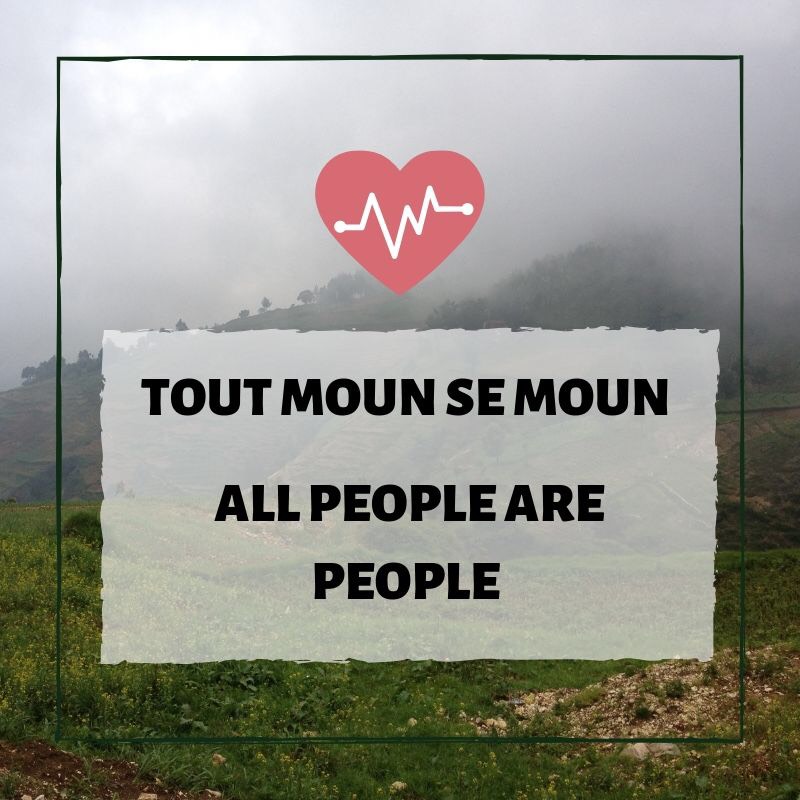 An Ongoing Threat
While reading Mountains Beyond Mountains, I found myself wanting to know more about the status of the TB epidemic and multidrug-resistant tuberculosis. So, at the end of the June bookstagram story takeover, we shared some information from the Executive Summary of the World Health Organization's Global Tuberculosis Report (2018) – here they are for you:
Globally, tuberculosis is the #1 cause of death from a single infectious agent
One of the first milestones of the WHO's END TB strategy is for the incidence rate to be falling by 4-5% per year by 2020
Currently the incidence rate is falling at 2% worldwide
In multidrug-resistant Tuberculosis (MDR-TB), a person is infected with TB bacteria that are resistant to at least both isoniazid and rifampicin
Globally, treatment success of MDR-TB is only 55% and only 1 in 4 people are treated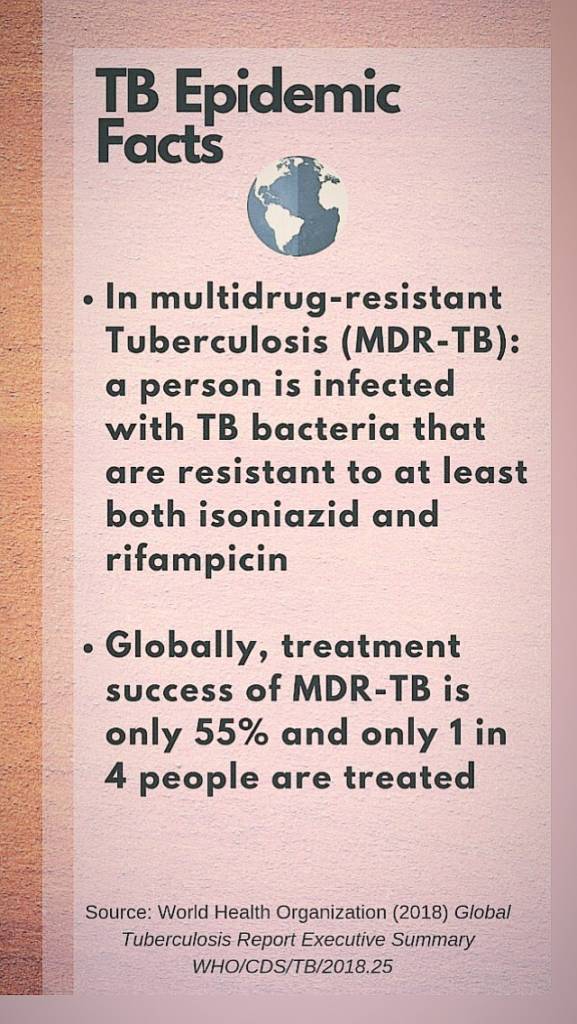 View the entire #Bookstagram for Mountains Beyond Mountains here: Instagram Takeover!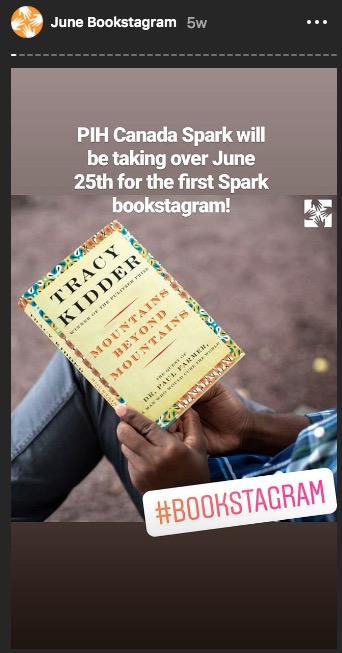 Introducing the next book – Spillover of International Concern
On July 17th, 2019, the outbreak of Ebola in the Democratic Republic of the Congo was declared a Public Health Emergency of International Concern by WHO Director-General Dr. Tedros Adhanom Ghebreyesus.
For the month of July, we will be exploring the global health threat of zoonotic diseases such as Ebola through the book Spillover: Animal Infections and the Next Human Pandemic by David Quammen.
As Quammen reminds us in his TED talk Thirteen Dead Gorillas: Emerging Diseases and the Next Human Pandemic, "We humans are animals. We're part of nature. We're not separate from it or, somehow, above it."  
"The next big human pandemic—the next disease cataclysm, perhaps on the scale of AIDS or the 1918 influenza—is likely to be caused by a new virus coming to humans from wildlife. Experts call such an event "spillover" and they warn us to brace ourselves. David Quammen has tracked this subject from the jungles of Central Africa, the rooftops of Bangladesh, and the caves of southern China to the laboratories where researchers work in space suits to study lethal viruses. He illuminates the dynamics of Ebola, SARS, bird flu, Lyme disease, and other emerging threats and tells the story of AIDS and its origins as it has never before been told. Spillover reads like a mystery tale, full of mayhem and clues and questions. When the Next Big One arrives, what will it look like? From which innocent host animal will it emerge? Will we be ready?"
Follow PIH Canada on Instagram to send us your thoughts on Mountains Beyond Mountains and check out our Instagram stories on July 30th and 31st for the next Global Health Bookstagram featuring Spillover, by David Quammen.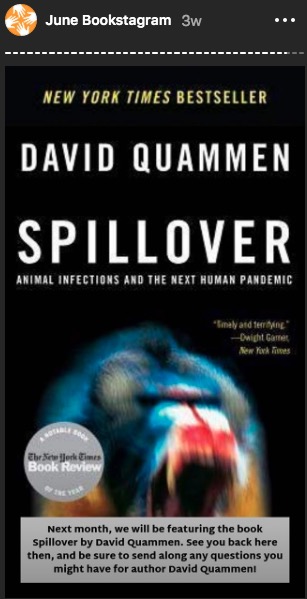 [Giveaway Alert] Win a copy of the June book: Mountains Beyond Mountains 
Partners in Health Canada is giving away a copy of Mountains Beyond Mountains to you (or maybe for a friend, if you've already read this book)! To enter, tag a friend who should know about the @pihcanada #bookstagram in this instagram post (click to open in app):
Once you do, Partners in Health will include your name in the pool and if you're the lucky winner we'll mail a copy of Mountains Beyond Mountains to you! Contest ends July 31, 2019!
*Answers to questions above
A1: Directly Observed Treatment Short-Course Chemotherapy (DOTS)
A2: "Tout moun se moun" means "All people are people"