This question is by far one of the top questions we receive from prospective master's students. And, it's a really good question!
However, we feel that there is no single degree that comes out THE BEST!
The best choice is the one that is right for YOU.
For example, if you take the PH SPOT team, we have a mix of MPH'ers and MSc'ers in our group. Each of us pursued one degree over another because of the career path we wanted to have. This is not unique to the PH SPOT team. Such is the case in the field of public health, whether you look at the makeup of public health organizations, our peer groups, or even within the larger PH SPOT community which has over thousands of members.
We see that both degrees are prevalent, and both degrees are valuable. However, they each serve a different purpose.
And we know what you are thinking. You've already heard this advice in many places, but you are still stuck with your decision!
We knew that we needed to give you something more tangible to help you make your decision, so we took this question to the experts….our community!
Back in August we posed this question (MPH or MSc?) across our social media platforms (Instagram, Facebook, Twitter, and LinkedIn), and received some really good responses. Below is a compilation of the PH SPOT's community's response to this question!
We hope that by hearing from your peers why they chose an MPH or an MSc, it will give you some clarity as you make a decision that's best suited for you.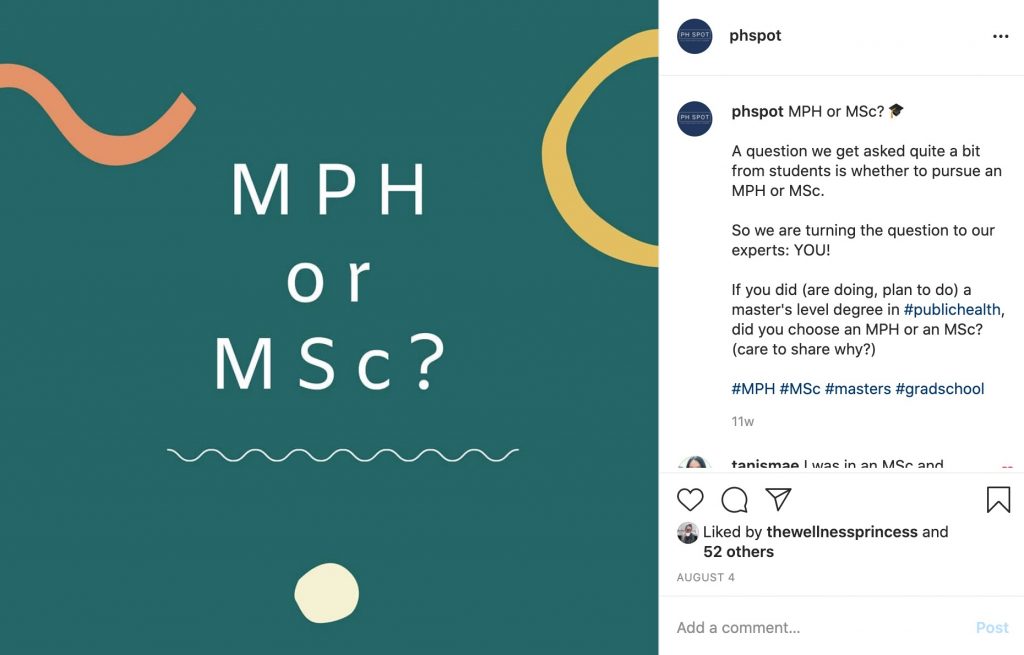 The advice below is presented as they were written by the community members, with minor typo corrections. Like any advice, take what you need, factor in your unique situation, and make the decision that's right for you. Good luck!
The Public Health Career Club

Wanna join the #1 hangout spot and community dedicated to building and growing your dream public health career?
Master of Public Health (MPH) degree
"I was in an MSc and switched to an MPH after my first year. For me, I had already worked in public health on the research side for a number of years and I didn't feel the thesis would give me anything extra (many of my projects for work could have been a thesis in themselves). On the other hand, I was interested in getting more practical experience through practicums. I ended up doing two practicums and those built me connections that helped to lead to my current positions. So for me, it was the right choice. I think it depends on what you are wanting to get out of your masters and what you hope to do after." -@tanismae
"I did my MPH in epidemiology because I was interested in a practical approach where I could gain more hands-on experience. I appreciated the practicum component. I was also less interested in academic research and more interested in taking courses, so this program fit my needs well." -@alliecatski
"MPH. Offered the opportunity to concurrently work in various public health and healthcare systems throughout graduate studies. Personally have more interest in implementation sciences and coordination in the public health sphere than scientific experimentation/publishing." -@epireport
"MPH – I liked the idea of a practical component within the degree that took me out of academia and into the "real world" but still allowed flexibility to participate in research if I wanted to (one of my practicums was with a PH researcher at the university!)" -@angiesalomon
Master of Science (MSc) Public Health Degree
"Depends on the MSc. I did an MSc in Health Policy, Management, and Evaluation where I got to take mostly practical courses and only one research methods course. I would recommend this type of MSc, but not a strictly research MSc unless that's where you want to end up. I already had a Bachelor of Public Health so it was recommended for me to diversify my skill set. If you don't have an existing background in public health, I would say go the MPH route. If you already do, do something that will diversify your skills (MBA, Health admin, something like that)." -@allystanhope
"I did an MSc. as the MPH program in my school of choice was geared to health professionals wishing to further their knowledge and I was coming from a research-based science undergraduate degree. MSc. and MPH courses were mostly the same with the exception of the thesis for MSc. Luckily, I was able to get practical experience through various internship positions in addition to extensive research experience so it worked out well for me 😃" -@cherrydeee
Guidance/thoughts on both MPH and MSc
"MSc has a stronger research focus, MPH covers more ground and often comes with [a] practicum" -@Chelsea
"I did my MPH while working FT as a public health evaluator. I think an MSc may have been more valuable, since I had plenty of "real world" PH experience, and could have used more research experience with the guidance of an advisor." -@KristinBeaton
"MPH is a professional graduate course where the expected competencies can be used in the practice of public health, even within the grounds of academe. MSc is also good for academic career plans. Both are equipped in terms of research, but MSc can have an inclination to basic researches while MPH on applied researches (community). If you want to become a public health practitioner and work with a range of organizations in the community and industry (including also the academe), have an MPH. If you see yourself having more time as a future member of the academe teaching public health and social sciences (which sometimes you can also participate in public health projects outside of the school premises), have the MSc. For me, I pursued MPH." -@Marlon
We hope the thoughts shared by your peers were helpful.
Like any advice, take what you need, factor in your unique situation, and make the decision that's right for you.
We also recommend you read our EDUCATION-related blog posts for more insight and personal reflections from your peers on why they chose a certain program or school for their masters, practicum reflections, and more.
We'd love to know…what did you decide to pursue? Share in the comments below so your peers can hear your thought process!
Blog post featured image Photo by Siora Photography on Unsplash