"So, are you going to do a PhD?"
This is a question I have been repeatedly asked by my peers over the course of my Master of Public Health (MPH) degree at McMaster University. It's a common perception that after your MPH, your options for further schooling would be to pursue another professional degree (medicine, nursing, dentistry, etc.) or do a research-intensive PhD.
What if I were to tell you there is another option?
…Enter, the Doctor of Public Health (DrPH or DPH) degree.
Access the list of
Doctor of Public Health (DrPH) programs
around the world
This tool compares 51 DrPH programs across 27 variables.
This is the tool you need to get started on your application.
DrPH vs PhD
A DrPH is a professional degree designed for public health professionals who wish to work as a leader or administrator in private, public, or academic sectors. It sounds potentially even more diverse than an MPH, and that is really saying something. As a PhD is more commonly understood, I'm going to focus this blog post on introducing the DrPH degree, comparing it to a PhD, and discussing considerations for successful admission.
There are a few key distinctions between a DrPH and a PhD degree in Public Health:
See below for a side-by-side comparison of the two degrees (same information) in a table format.
1. Average length of study
DrPH – 3 to 4 years full time on average, 5-7 years part time (only some schools offer a part time option)
PhD – 4 to 6 years full time on average
2. Research intensity
DrPH – Often have research methods courses and involve a 1 to 2 year dissertation where students lead a major research project with supervision from a committee, and a written/oral defence
PhD – Emphasis on advanced research methods and statistical analysis courses, as well as a rigorous investigation of a specific topic in public health involving a 3 to 4 year thesis dissertation with supervision from a committee and an oral defence/examination
3. Practical experience
DrPH – Several programs require students to do a practicum/internship related to public health that may vary in length
PhD – This may depend on separate programs, but practice-based experience is typically not the focus of this degree
4. Experience prior to admission
DrPH – An MPH (or equivalent master's-level degree) and at least 2 years of work/professional experience, and for some schools up to 4 years of experience and GRE scores
PhD – An undergraduate or masters-level degree and generally some research experience
5. Career outcomes
DrPH – Leadership roles in various health sectors and more practice-oriented work
PhD – Primarily academia or research settings
Now this isn't to say that there isn't a considerable overlap; most DrPH degrees will require you to complete a research dissertation just like a PhD and there is always the option of DrPH degree-holders to work in academic and research-intensive settings. There are also options to specialize in specific aspects of public health for both a DrPH and PhD (epidemiology, social/behavioural sciences, health policy, etc.). But there are enough key differences to consider these two degrees as quite distinct from one another.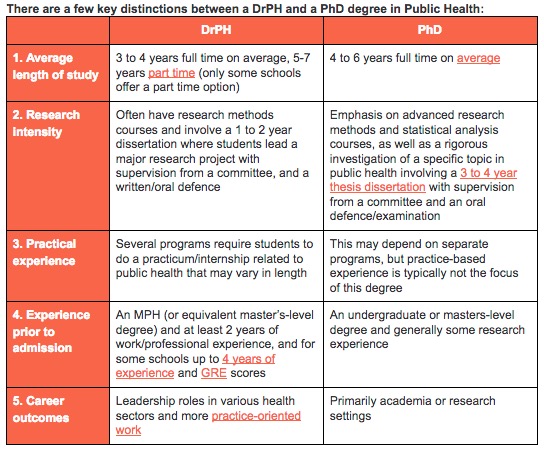 Ok, so a DrPH sounds intriguing, now what?
Well, let's work backwards from career outcomes and admission, and think about what schools are looking for in prospective students and what you can do after graduation to set yourself up for success.
A 2014 survey from the US found that Directors of DrPH programs valued previous academic performance, GPA, GRE scores, statement of purpose, writing samples, references, and previous experiences – in short, the usual.
Beyond that, you may also want to consider the core competencies of DrPH as suggested by the Association of Schools & Programs of Public Health: advocacy; communication; community/cultural orientation; critical analysis; leadership; management; and professionalism & ethics. What I find unique is the focus on leadership potential. I think most of the requirements and competencies are areas that Canadian MPH students have skills in and will build upon when they enter the public health workforce, but the real challenge (especially for me personally) is the leadership and management experience. This is where I think extracurricular involvement, continuous learning of new skills such as facilitation and team building, and the ability to reflect on past experiences can really help set you apart.
It's important to highlight that at the time of writing this, there are no DrPH programs offered in Canada (might explain why it's not that well known here!). Most of us aspiring to pursue this program of study will have to travel abroad to either the US or UK (or somewhere else) for a portion of DrPH degree and might also be able to continue working full-time while we finish our DrPH (some universities offer online learning).
In summary, the DrPH is an inter-disciplinary degree that is ever-growing and becoming more renowned around the world. The DrPH path is worth exploring, as more Canadian MPH graduates reflect on their future educational goals and are aiming to pursue leadership positions in their careers – in addition to public health practice and research.
Key resources for further reading:
Disclaimer: These were the results of Google and Google Scholar searches and is by no means an exhaustive analysis. This blog post is meant to give a brief snapshot of what is out there regarding a DrPH from the perspective of a prospective Canadian public health student. I would also like to thank Dr. Emma Apatu (DrPH, Director of Master of Public Health program, McMaster University) for reviewing the first draft of this blog.
Access the list of
Doctor of Public Health (DrPH) programs
around the world
This tool compares 51 DrPH programs across 27 variables.
This is the tool you need to get started on your application.